Vantage Industrial Cleaning
We are specialist Industrial Cleaning Company dedicated to tackling the most challenging environments.
01883 340 798
07926 199783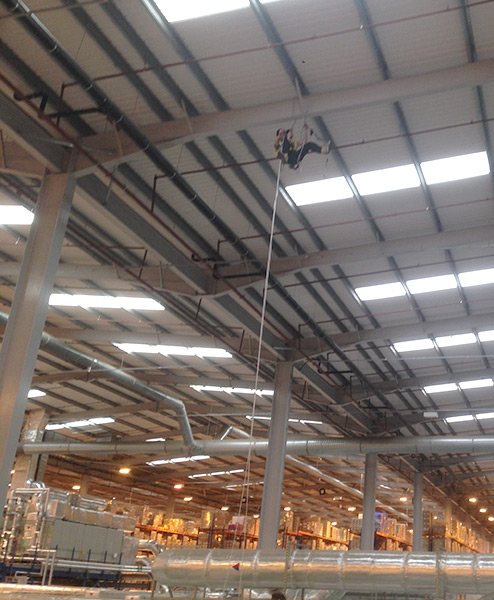 Industrial Cleaning
Working with all types of businesses, from local companies to some of the World's leading organisations in both the Food, Pharmaceutical and Distribution Sectors Vantage Industrial Cleaning has built up huge experience for high quality service at keen prices.
Whatever your specialist cleaning requirements, we will almost certainly have a cost effective solution by working with you in partnership and keeping disruption to a minimum!
Trusted & Experienced – Reliable & Fully Insured – Satisfaction Guaranteed
Our Services Include:
A free site survey and Safe Systems of Work/Rams package

Fast detailed proposal

Night and weekend working

Keen Price options

High level difficult sections

Confined Space

Racking cleaning

Dedicated on-site Managers who constantly monitor quality control and safety procedure

Pre and post clean reports

Working with you in partnership for all aspects of cleaning operations

The ability to clean at both high and low level across the full spectrum of site facilities

Floor scrubbing and refurbishment
Dedicated to tackling the most challenging environments



" Hello,
Just a quick note to say thank you to you and the cleaning team for doing such a great job of the office yesterday. Its hugely appreciated… it cleaned up a treat!
I will keep you on file for any future works.  "
Best Wishes
Paul
" Good morning,
Can I just take the opportunity to say a massive thank you to your team Jordan has been outstanding very professional and gone the extra mile to provide an amazing service. I am not sure if he can be nominated for a member award or recognition but he has been a pleasure to work with and I will of course be recommending your services .I have expressed my sincere thank you for his hard work but please would you reiterate what a great job he has done and a great ambassador for your company.
Once again thank you for an excellent job done "
Kindest Regards
Paula Hazelhurst – Branch Manager – Prestige Nursing Ltd (November 2020)
" Good morning Mike,
I just wanted to pass on my thanks on behalf of Victrex for the excellent job your team did in the VW3 and Invibio warehouses.
Lee, Andy and the rest of the team took on and met a very daunting challenge, the were professional in their behaviour and approach at all times and nothing was a problem for them, they clearly take personal pride in their work and delivering an excellent customer service on behalf of Vantage Industrial Cleaning. "
Best Regards, Dave Wolstenholme – September 2020
"A big thank you to your super efficient friendly guys from Vantage Industrial Cleaning who
carried out our certified deep clean and fogging for our return on Monday."
Graham School of Dance
September 2020
"Afternoon Deanna,
Firstly, apologies for the late response, it's been very busy the last week with ongoing projects.
 There are no problems to report in terms of feedback, the team carried out the work to an unprecedented standard, and quite frankly exceeded our expectations. The team that delivered the job worked extremely professionally and finished the evidently large (30 years of neglect) job in excellent time.
The building genuinely feels like a completely new place, as also mentioned by my Marketing Director & Manager.
If we are in need of any future cleaning solution jobs, I will not hesitate to get  in touch.
Have a great week!
Thanks."
Oscar
"Please can you thank your team for their support and quick response yesterday. Your operatives arrived and were very professional, they carried out the all the works satisfactorily and to a high standard.  We are very pleased with the outcome and would recommend your services."
 Marie Williams Housing Services Manager
"Vantage recently cleaned the duct work in our extraction and supply system. I must say I was highly impressed with the standard of their work as well as with their professionalism and courteous behaviour. They showed a real understanding for the needs of our 'sensitive areas', didn't get in the way and cleaned up after themselves. Simply put, they were easy to have around. What's more, they were highly competitive on price!"
Gary Turner, North Hampshire NHS Trust
"The project was a big success please extend my thanks to the teams who worked extremely hard under some quite challenging circumstances at times.
I thoroughly enjoyed working with them and hope to do so again when we need to repeat the project next year.
I am always taken aback by the work ethic of everyone i come across at Vantage, difficult tasks are always completed to the highest standards possible."
One of the largest UK food producers Feb 2020
"Your staff are performing well. Always obliging and courteous. They are doing a good job with the cleaning. Your Project Manager has organised them well and keeps me up to date with progress. Nothing is too much for him."
Bryan Benamore – Process Manager, Arla Foods, Ashby-de-la-Zouch
"Hi Lawrence, I hope you still have recollection of the wonderful work you carried out at Fisher's. I have agreed with our quality people that we will carry out annual inspections and assess what needs cleaning at the end of the year. After evaluation we will call you to arrange."
Sandra Czaban – Facilities Manager, Fisher Clinical Services
"Your guys were fantastic. The job they did was excellent. I've never seen this place looking so clean! You were much better than the last company we used. I will definately use you next year."
Terry Sparke – Monitoring Officer, Estate and Facilities Department, Centre for Forensic Mental Health
"Your guys are fabulous! Of all the contractors on site, yours are the only ones I don't have to worry about. They do exactly as they plan safely and properly"
Alison Beard Gunter – Facilities Manager, GSK
"Vantage recently cleaned the duct work in our extraction and supply system. I must say I was highly impressed with the standard of their work as well as with their professionalism and courteous behaviour. They showed a real understanding for the needs of our 'sensitive areas', didn't get in the way and cleaned up after themselves. Simply put, they were easy to have around. What's more, they were highly competitive on price!"
"I was highly impressed by the standard of Vantage's work, as well as with their professionalism and courteous behaviour. They showed a real understanding for the needs of our sensitive areas,I didn't get in the way, and cleaned up after themselves. Simply put, they were easy to have around. What's more, they were highly competitive on price! We will definitely use them again and would not hesitate to recommend them to anyone."
Gary Turner – Mechanical Supervisor, Basingstoke and North Hampshire NHS Foundation Trust
Get In Touch With Us
National UK Coverage – Free Quotes
Call us on today on 0333 7727451, 01883 340 798 or 07926 199783
Get In Touch With Us Today