Vantage Industrial Cleaning
Vantage Industrial Cleaning is a specialist Industrial Cleaning Company dedicated to tackling the most challenging environments.
01883 340 798
07926 199783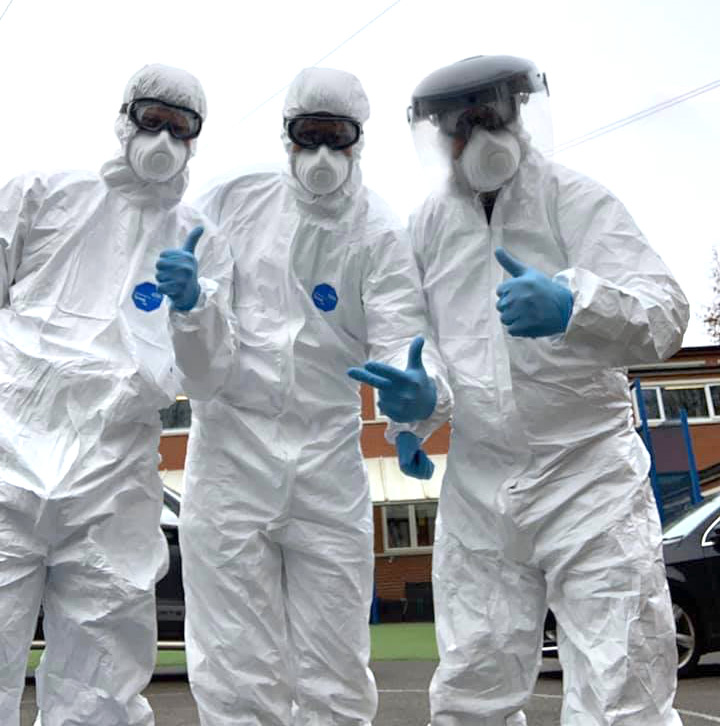 Decontamination Cleaning
We have been specialists in decontamination cleaning for the last 25 years. Beware of newly setup companies who have no experience or track record.
We always carry out a risk assessment to ensure a safe and effective clean.
We have specialist decontamination teams throughout the country ready to clean to thoroughly clean and decontaminate affected areas to a clinically safe condition, using only the very best anti-microbial, anti-fungicidal cleaning products currently on the market.
We implement best practice and use reputable cleaning products to provide results against COVID-19, MRSA, C.difficile, Listeria and other infections. We have been cleaning for pharmaceutical companies for many years.
Trusted & Experienced – Reliable & Fully Insured – Satisfaction Guaranteed
We achieve our high standards by:
Working with you we understand your requirements and deliver the results you need.
By providing our workforce with the skills, ongoing training and motivational tools necessary to keeping a single point of focus – total customer satisfaction.
With experienced On Site Managers constantly monitoring quality, we ensure our service tackles the unique requirements specified by each individual customer.
Through our vast experience Vantage delivers flexibility, versatility, fast response and a cost effective solution to every job.
Dedicated to tackling the most challenging environments



"Please can you thank your team for their support and quick response yesterday. Your operatives arrived and were very professional, they carried out the all the works satisfactorily and to a high standard.  We are very pleased with the outcome and would recommend your services."
 Marie Williams Housing Services Manager
"Vantage recently cleaned the duct work in our extraction and supply system. I must say I was highly impressed with the standard of their work as well as with their professionalism and courteous behaviour. They showed a real understanding for the needs of our 'sensitive areas', didn't get in the way and cleaned up after themselves. Simply put, they were easy to have around. What's more, they were highly competitive on price!"
Gary Turner, North Hampshire NHS Trust
"The project was a big success please extend my thanks to the teams who worked extremely hard under some quite challenging circumstances at times.
I thoroughly enjoyed working with them and hope to do so again when we need to repeat the project next year.
I am always taken aback by the work ethic of everyone i come across at Vantage, difficult tasks are always completed to the highest standards possible."
One of the largest UK food producers Feb 2020
"Your staff are performing well. Always obliging and courteous. They are doing a good job with the cleaning. Your Project Manager has organised them well and keeps me up to date with progress. Nothing is too much for him."
Bryan Benamore – Process Manager, Arla Foods, Ashby-de-la-Zouch
"Hi Lawrence, I hope you still have recollection of the wonderful work you carried out at Fisher's. I have agreed with our quality people that we will carry out annual inspections and assess what needs cleaning at the end of the year. After evaluation we will call you to arrange."
Sandra Czaban – Facilities Manager, Fisher Clinical Services
"Your guys were fantastic. The job they did was excellent. I've never seen this place looking so clean! You were much better than the last company we used. I will definately use you next year."
Terry Sparke – Monitoring Officer, Estate and Facilities Department, Centre for Forensic Mental Health
"Your guys are fabulous! Of all the contractors on site, yours are the only ones I don't have to worry about. They do exactly as they plan safely and properly"
Alison Beard Gunter – Facilities Manager, GSK
"Vantage recently cleaned the duct work in our extraction and supply system. I must say I was highly impressed with the standard of their work as well as with their professionalism and courteous behaviour. They showed a real understanding for the needs of our 'sensitive areas', didn't get in the way and cleaned up after themselves. Simply put, they were easy to have around. What's more, they were highly competitive on price!"
"I was highly impressed by the standard of Vantage's work, as well as with their professionalism and courteous behaviour. They showed a real understanding for the needs of our sensitive areas,I didn't get in the way, and cleaned up after themselves. Simply put, they were easy to have around. What's more, they were highly competitive on price! We will definitely use them again and would not hesitate to recommend them to anyone."
Gary Turner – Mechanical Supervisor, Basingstoke and North Hampshire NHS Foundation Trust
Get In Touch With Us
National UK Coverage – Free Quotes
Call us on today on 0845 075 3662, 01883 340 798 or 07926 199783
Get In Touch With Us Today